1/35 Trumpeter 00210 Kriegslokomotive BR 52
Trumpeter BR 52 Locomotive (Kit No. 00210)
In October 2008 I started with this nice kit. The model is highly detailed, with 710 parts to be completed. I have got also 3 sets of photo etched parts from Eduard, 8 sheets altogether, what means there is a lot of parts to deal with. I suppose a big work with a putty, many parts need to be fixed. The instructions are very clear.
V listopadu 2008 jsem začal se stavbou tohoto nádherného modelu, s vysokými detaily, 710 díly stavebnice plus 3 sety, celkem 8 plat leptů od Eduardu, několik set dalších dílů. Na modelu bude dost práce s tmelením, forma má již něco za sebou a hlavně otisky průduchů jsou na některých dílech značně hluboké. Návod je velmi přehledný, jak je u Trumpeteru zvykem

The chasis is built and waiting for final painting. The main chasis is almost finished and painted, there are some other pieces to be put on.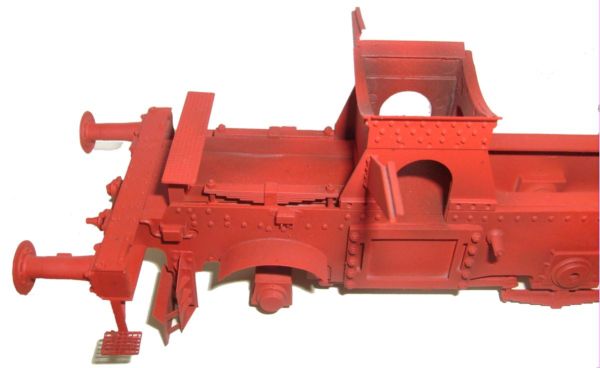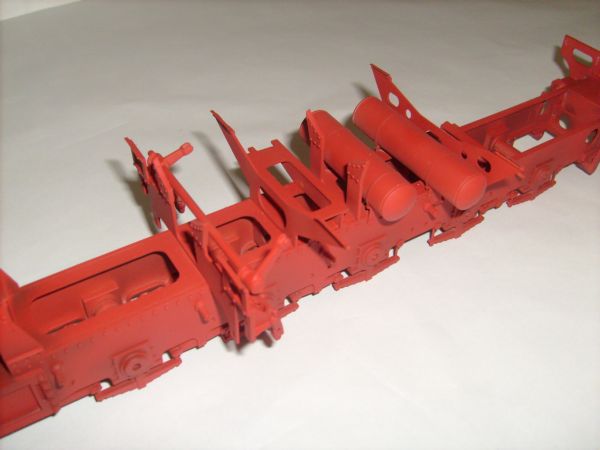 Podvozek tendru je hotový a čeká na finální nástřik, podvozek lokomotivy potřebuje dokončit několik drobných detailů.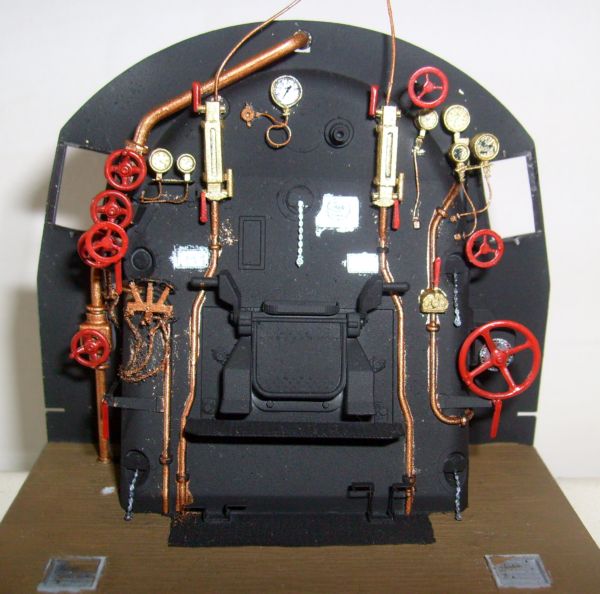 The interior with etched parts looks great, but there is still a few things to get done. The tender has been built up, I am going to finish it, paint the surfacer and final paint after some preshading. This is a thing I am just trying to get anyway. For all my new models I use Lifecolor and Tamiya acrylic paints and combination of a retarder and Sidolux, which is a clear varnish, used for care of a wood floor. But it works perfectly on kits, painting is a bit glosy, ready for application of decals, and it is very abrasion resisting. This is just one from many advices of my modeller colleague Jakub Vilingr, what I have found on his web site. I have done some work on the boiler too.
Vnitřek s lepty vypadá dobře, ale zbývá ještě kus práce k jeho dokončení. Tend je hotový, zbývá ho nastříkat surfacerem a konečným nátěrem po nějakém tom preshadingu, do jehož tajů teprve vnikám. Pro všechny nové modely používám barvy Lifecolor a Tamiya v kombinaci se zpomalovačem schnutí kvůli stříkání a se Sidoluxem, což je lak na dřevěné podlahy a nábytek, ale který skvěle funguje při barvení modelů, vytváří pololesklý, hladký povrch, vhodný pro bezprostřední pokládání obtisků, a navíc je nátěr velice odolný proti mechanickému poškození. To je jedna z mnoha rad, jež jsem načerpal na stránkách Modelplac pana Jakuba Vilingra, které vřele doporučuji každému modeláři, sbírajícímu zkušenosti. Nu, a tady už jsem začal s kotlem.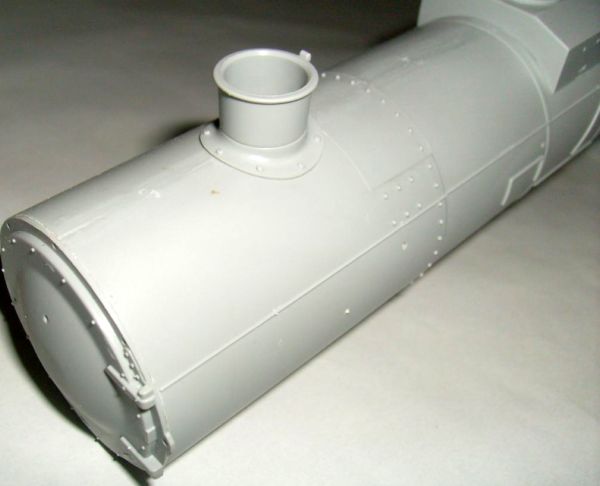 The firewall is almost finished and my work continues with the others walls.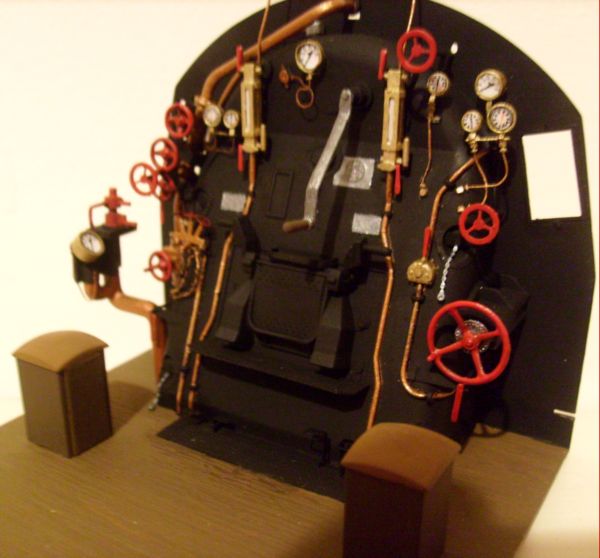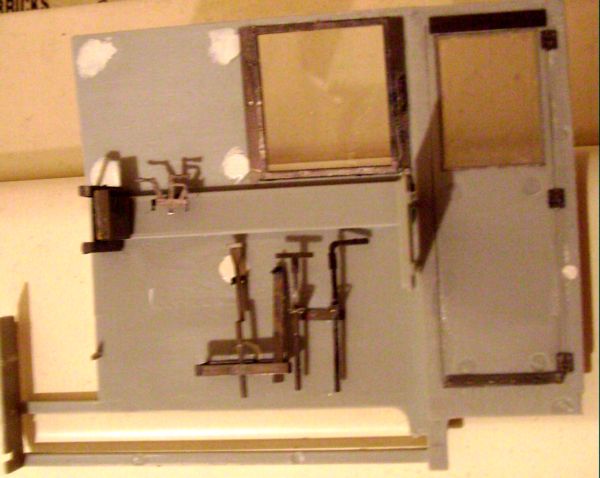 Dokončil jsem topeniště a vlastně celý interiér a tendr a začal s koly a hnacím soustrojím. Tady je jedna nehezká fotka, během několika dnů sem přihodím pár obrázků, práce jde nyní pomalu, některé díly je problém slícovat. I tak doufám, že model dokončím před vánoci, už jsem u něj strávil nějakých 200 hodin.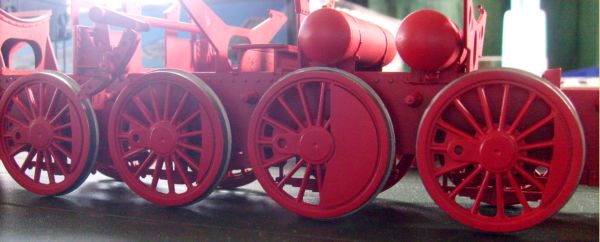 Have done interior and the tender and started with wheels and driving rods. More pictures coming soon, my work is going slowly now, it is not easy to set some parts well. 200 hours spent already on this kit, but still hope to finish it before Christmas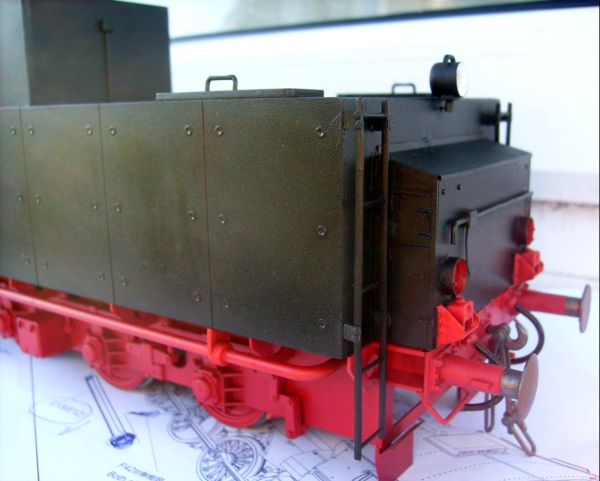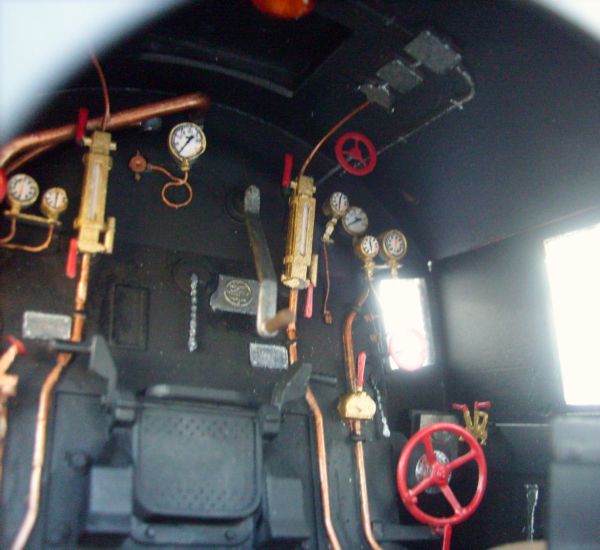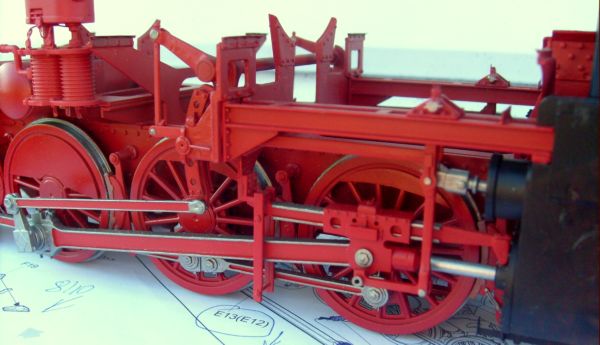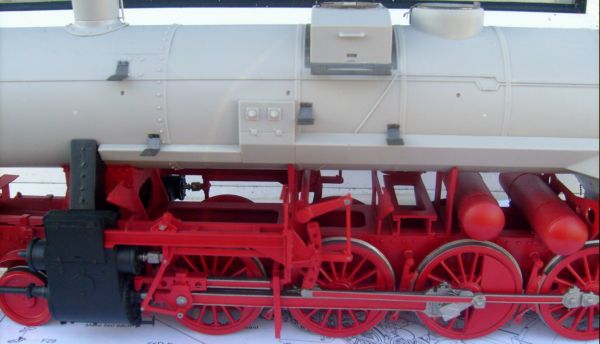 Konečně hotovo, minulý týden jsem si pohrál s kolejemi, včera jsem dolepil plošiny na lokotku, dodělal nějaké ty finální úpravy vzhledu a obtisky, dneska jsem celek ještě lehce přelakoval a Br 52 je hotová. Pár posledních obrázků a jakmile budu mít chvilku, dám její fotky do galerie. A v nejbližších dnech se pustím do Bronca, kterému jsem již otevřel stránku v této sekci.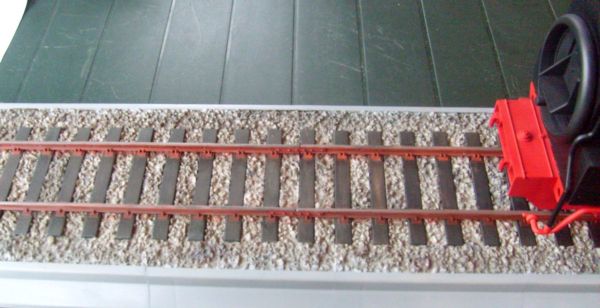 Finally done, the railway finished last week, yesterday I completed working steps around the boiler and put on the decals, today I have done last painting. New pictures of my Br 52 coming into gallery asap and I am gonna start with Bronco kit, which page has been opened in this section already.