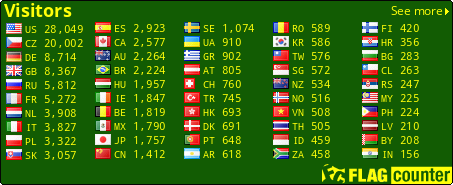 1/35 Dragon Railway Ommr Gondola...
Another Car for my German WWII train arrived, I was very lucky to find this rare one in a online shop. I have started building today. The kit has very clean moulding, brilliant details and usual Dragon´s instructions. It will be a good guide for my work on Balduar cars, mainly for their detailing. All the parts are cut off and cleaned, I will bring some pictures soon.
Další přírůstek pro dioráma německého vlaku jsem s velkým štěstím našel v online shopu v Anglii a hned jsem se pustil do stavby, jež může být dobrým vodítkem pro následnou stavbu vagónů od Baluardu, hlavně pro tvorbu extra detailů, jimiž chci kity opatřit. Tato stavebnice je čistě odlitá, s hezkými detaily a klasickým návodem Dragonu. Díly mám již začištěné a začnu se stavbou. Nějaký obrázek se objeví co nevidět.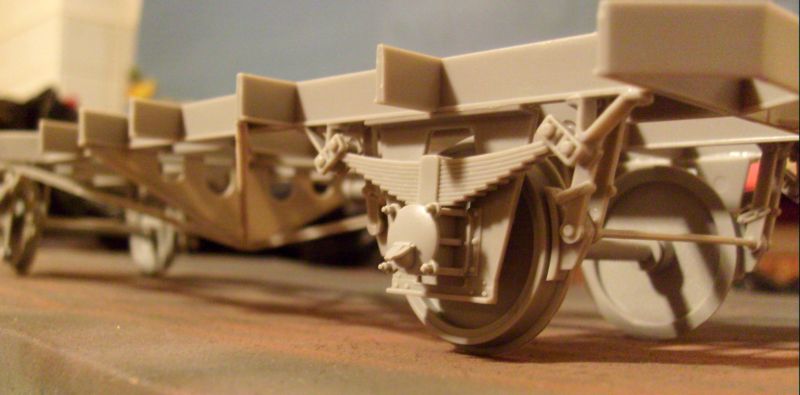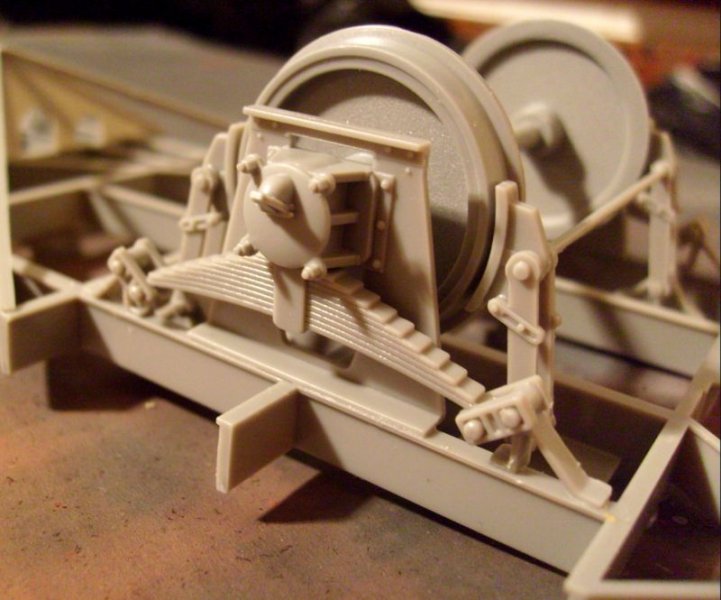 All the chassis is really nice detailed, I will add air hoses and braking system tomorrow.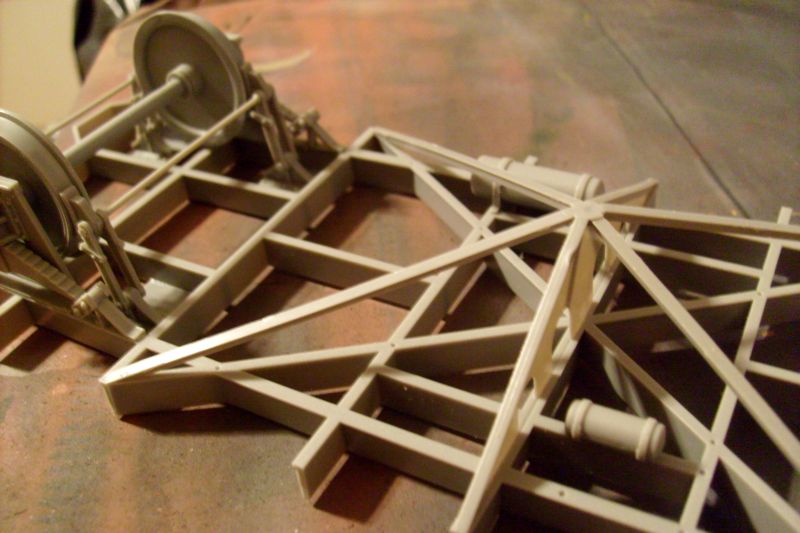 Podvozek s hezkými detaily, zítra přidám vzduchové hadice a brzdová táhla.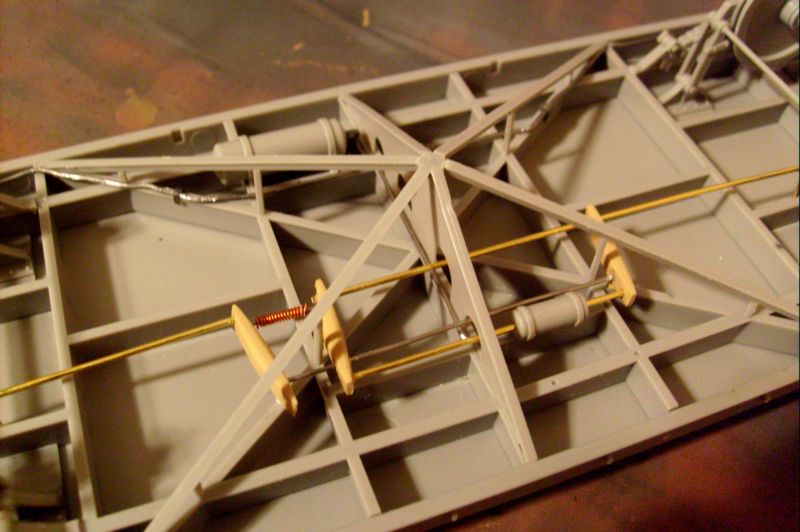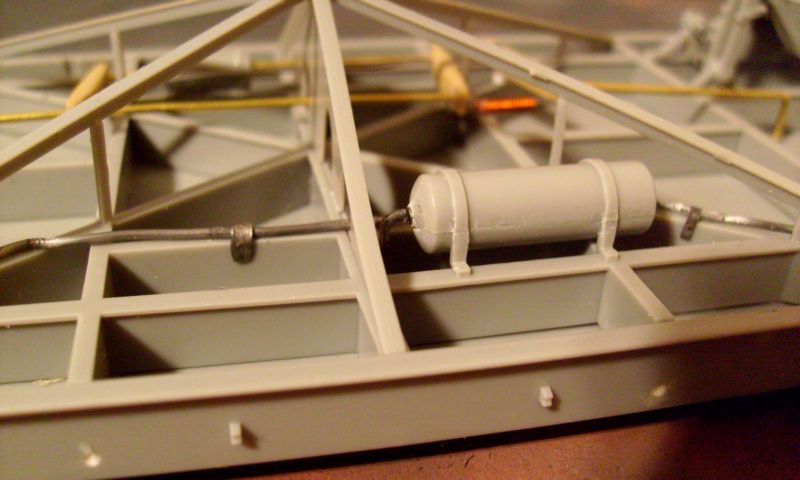 I did not find any closer references for exact braking system of this car, I was just following a few pictures and drawings I had available. I suppose that all German wagons from that era were equipped by the Hildebrand-Knorr brake, which replaced in 1930s previous Kunze-Knorr brake. By my opinion braking system used that time on the goods wagons looked alike.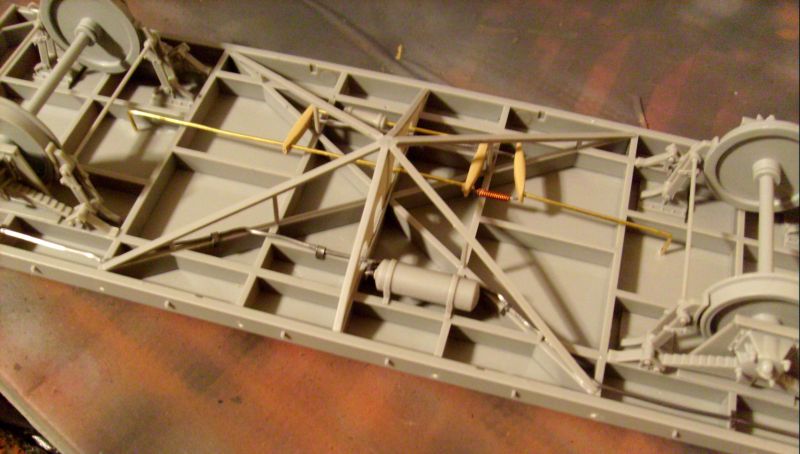 Nenašel jsem přesné reference pro brzdový systém tohoto vagónu, držel jsem se několika obrázků a nákresů, jež jsem měl k dispozici z období 40. let. Všechny německé vagóny v té době byly vybaveny Hildebrand-Knorr brzdou, jež v 30. letech nahradila dříve užívanou Kunze-Knorr brzdu. Předpokládám, že brzdy na různých nákladních vozech z té doby byly velice podobné.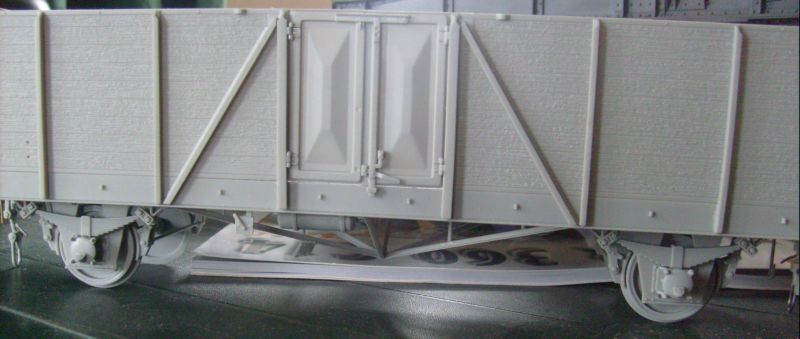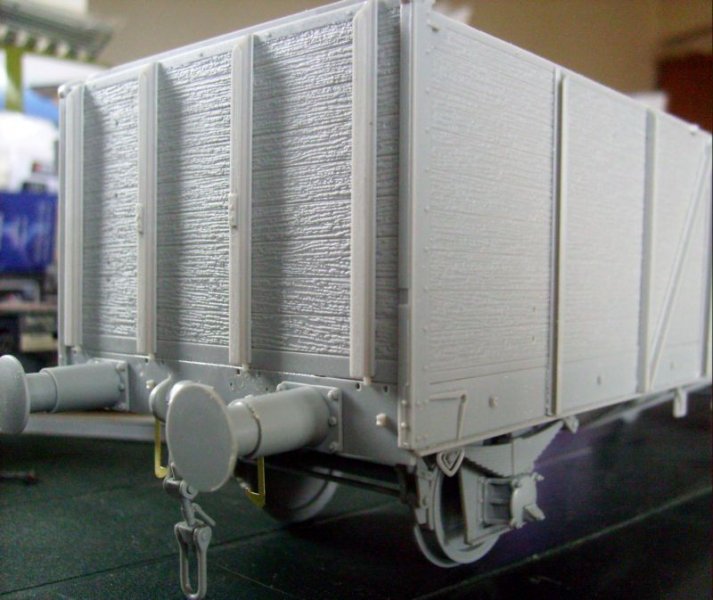 I added more extras today. There is just one full coupling in the kit, second is provided like a hook only. Available pictures I had checked show always full coupling at both sides of the cars, and two air hoses as well. There is just one at each side manufactured by Dragon. I have made second full coupling and the hose-holders needed. I need 2 more air hose flanges for this model and many more for all Balduar wagons. I will make a silicon mould next week, and cast them in resin.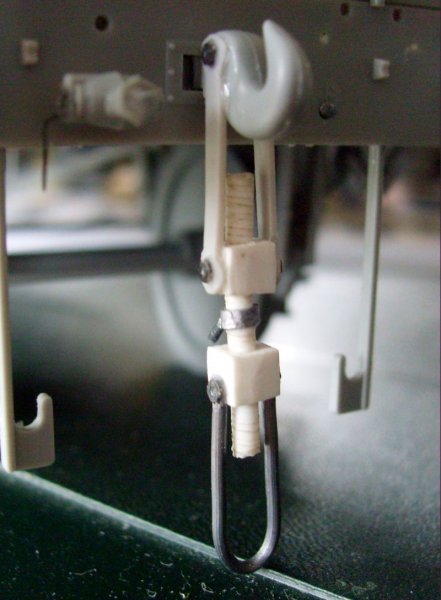 Přidal jsem několik drobností, vyrobil jsem kompletní spřáhlo, protože v modelu je celé pouze na jedné straně a samotný hák na straně druhé. Přidal jsem také po jedné vzduchové hadici na obou stranách, na dostupných fotografiích jsem našel vždy vozy se dvěma hadicemi a kompletními spřáhly. Připevnil jsem zatím jen držáky hadic, budu muset odlít z resinu chybějící příruby, jež ostatně budu také potřebovat pro všechny vagóny od Baluardu.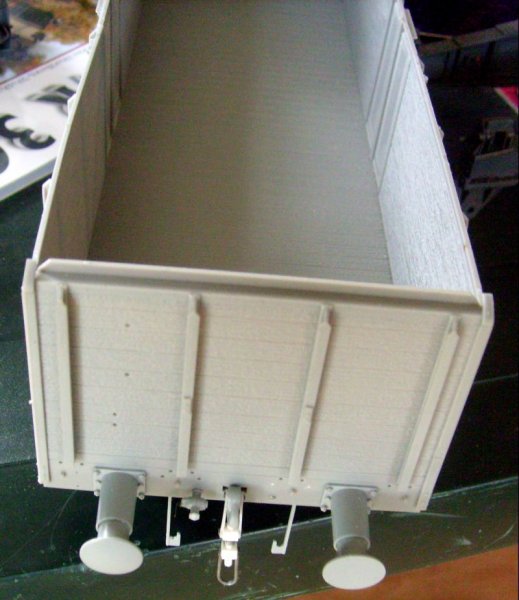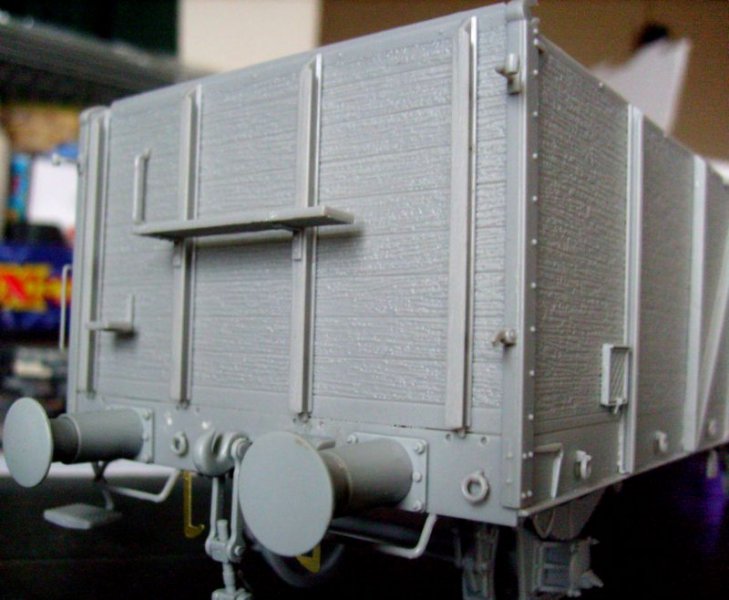 Stavba je již hotova, kromě vzduchových hadic, které přidám později. Zítra stříknu surfacer.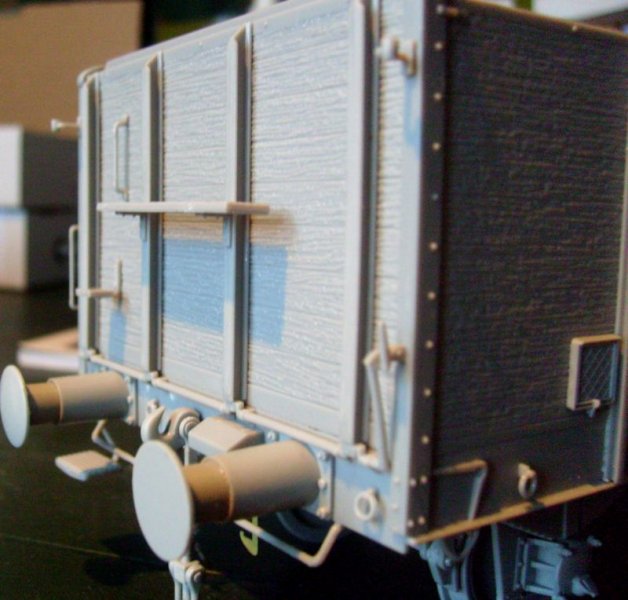 I have finished building, the air hose flanges will be added later. I am gonna paint surfacer tomorrow. Today the surfacer is on and some dark paint for darker shadow. The final color for this car will be red.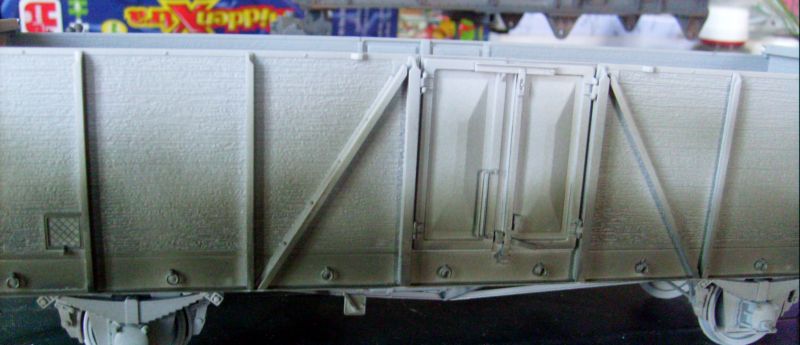 Nastříkal jsem surfacer a nějaký tmavý zbytek na spodní část bednění, abych později dostal tmavší stín červené, kterou bude tento vagón ve finále stříknut.

I have started painting today,now some more shadows will be added.

Vagón je nastříkaný a nalakovaný, později přidám obtisky a přelakuju, načež se pustím do patiny, nejdřív oleji. Předpokládám tento vůz značně omšelý, s nákladem uhlí nebo štěrku.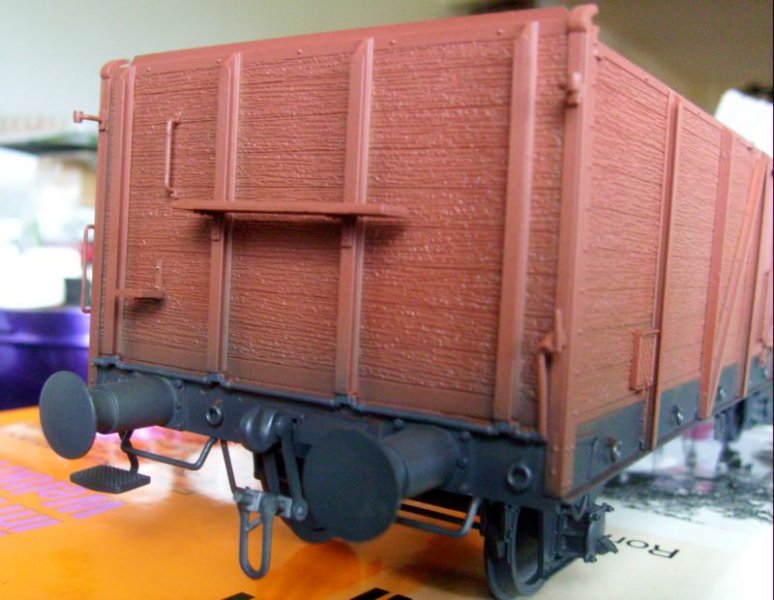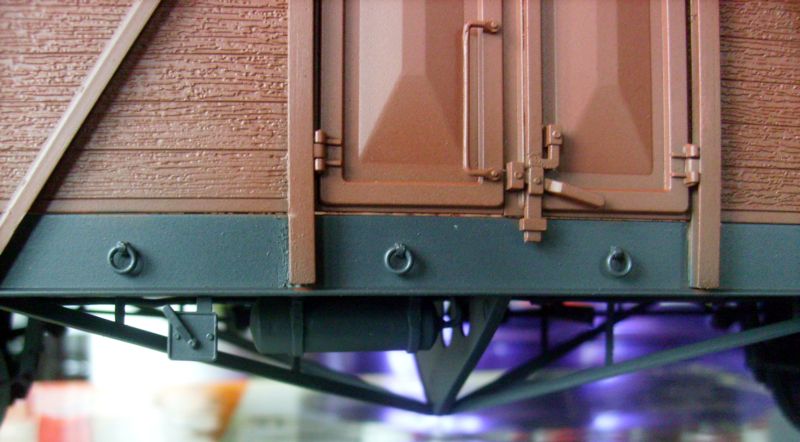 The painting is over and varnish coat applied a few times. I will stick on decals and start with oils then. I suppose this car worn-looking, coal or ballast loaded. The decals added below.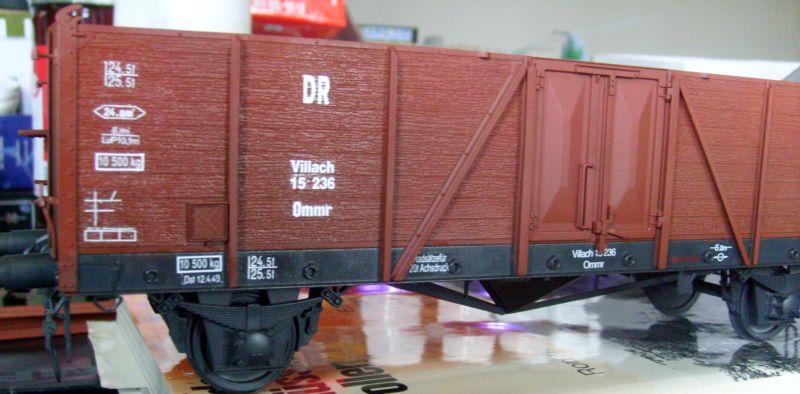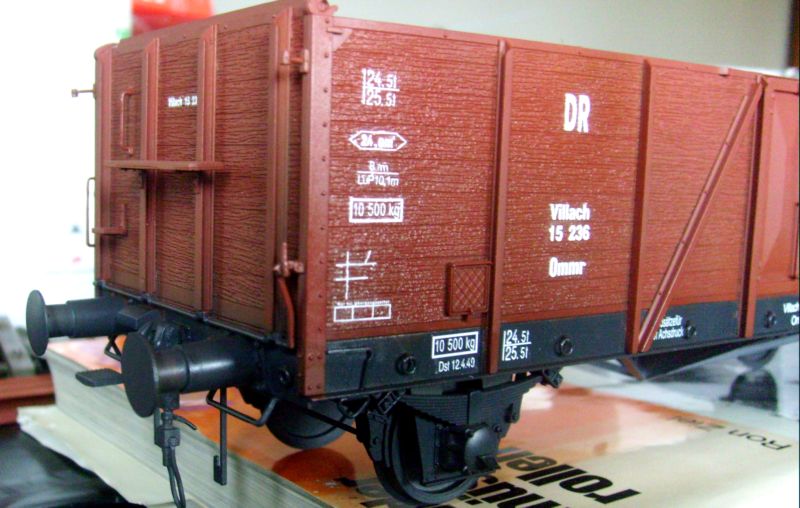 S nalepenými obtisky. Trochu mě zaráží datum na dvou obtiscích, 1949 a 1951, jedno datum by se mělo týkat kontroly brzd a druhé převážení vagonu, nějak se mi nezdá, že by v té době bylo uváděno datum budoucí kontroly, pokud mě paměť neklame, vždy se uvádí datum proběhlé kontroly, ale tím spíš by to bylo podivné na stavebnici situované do období 2. světové války. Každopádně měním na 1940.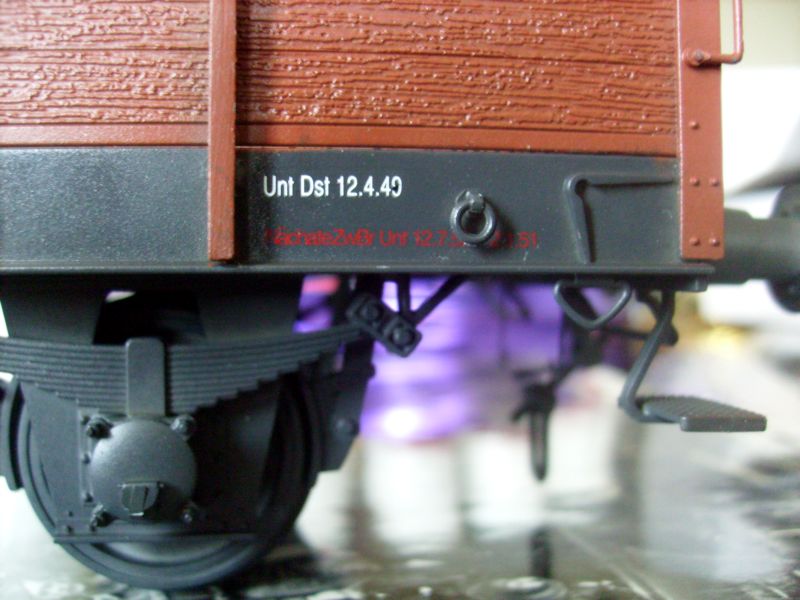 I am a bit confused with the dates shown on decals, years 1949 and 1951, first one should be when the car was reweighed, second one when the brakes were checked, as far as I know, these dates are always about chesks passed, not expected. I could not find any more informations about that, so I am going to change years fo 1940.

Začal jsem s oleji, ještě přidám něco prachu, lehký wash a náklad uhlí.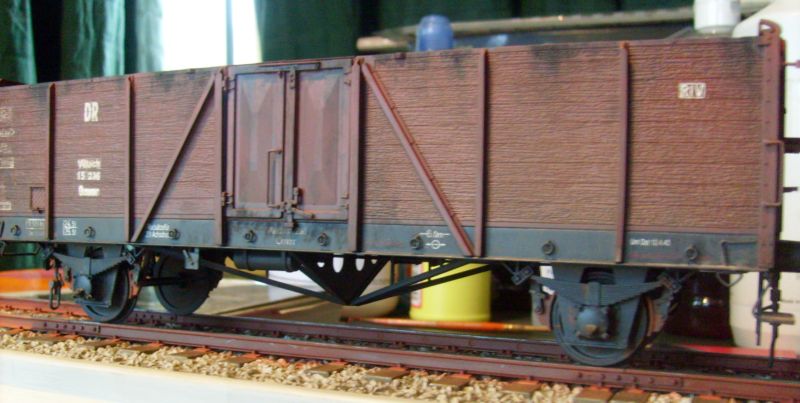 I started with oils, light wash, a bit of dust and load of coal will be added.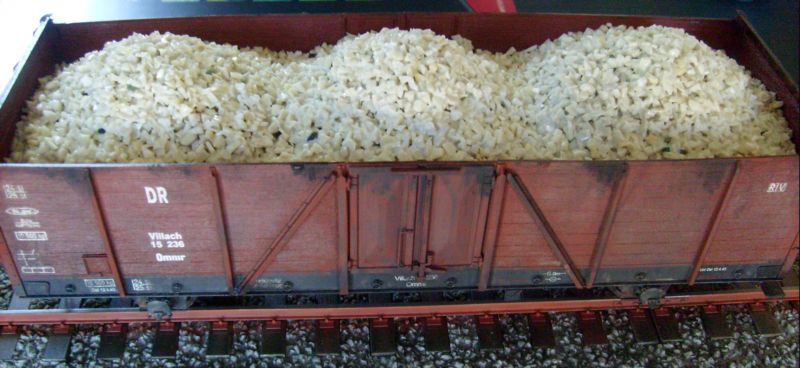 Uhlí je naloženo, zbývá barvení a přidat patinu uvnitř ložného prostoru. Detail vzduchové hadice s ventilem.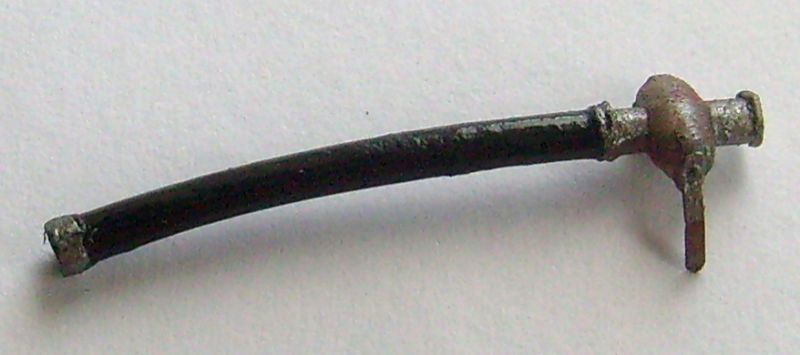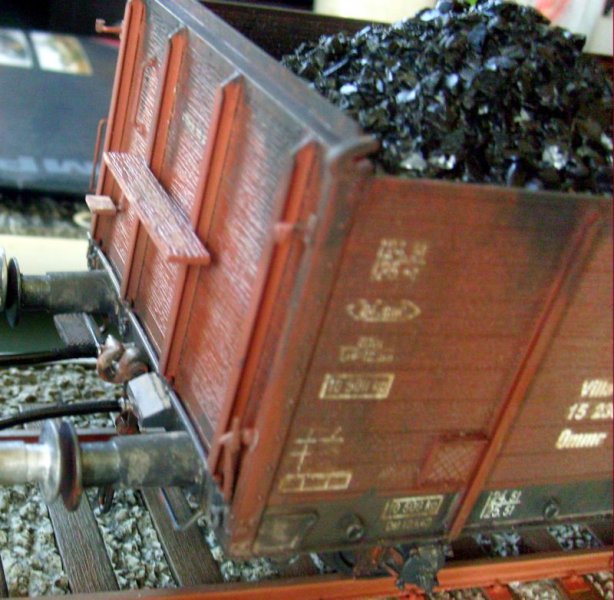 First picture above is showing the airhose with valve, the other pictures show finished Ommr.